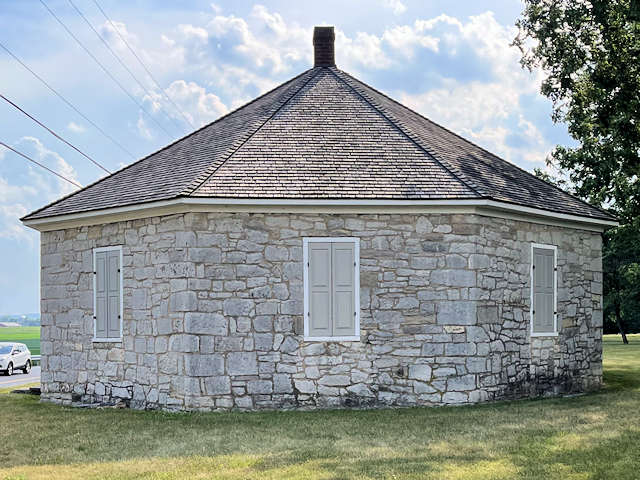 Photo circa 1950
See image full size here:
http://www.octagon.bobanna.com/images/montandon_pa_school_history_1.jpg
From:
http://www.octagon.bobanna.com/PA.html
East of
Montandon.
Octagon schoolhouse. Sodom school. Believed to have been built some time around 1812-1814. Single story. Stone construction, using stone likely quarried right on site.. Used until 1915. All in all the structure is in very good condition, and all but 200 years old now. A new cedar shingle roof will now arrest any further water damage inside. Located on the highway between Montandon and Danville.
The following information is distilled from that provided by Vaughn Murray, a local resident who has a great deal of familiarity with the school.
No longer used after 1915 as a school, it sat dormant for years. It was renovated at least twice before today's attempts. Once in the 1930s, as a WPA project, and more in the 1960s. A major rebuild had to be performed in 1972 after flood damage. Efforts at renovation continue in year 2008 as local efforts continue to also add period school furnishings, including old blackboards, and outdoor facilities. Other people have scraped, re-glazed, and painted the windows, and acquired a new door. Interior plaster repair and painting will be done in the summer. The exterior stone has been repointed. A period cast-iron stove has also been obtained. Owned by the state until the 1980s, over the years other uses for the structure were contemplated, but a lack of indoor plumbing and electricity were obstacles, although this could apparently still happen, despite the expense. In time the goal is to create a setting to accommodate visitors. Hemmed in by private land, an arrangement for more land around the building has to be worked out yet, and is in progress.
A piece from 1977 includes an undated photo of the school and shows that it once had a belfry. The bell has disappeared. The photo shows that the building was in rough shape before renovations began.
Built some time in and around 1812 to 1814, there is a lot of lore surrounding the origins of the house, some perhaps containing some truth, and others pure fabrication. The best description of the interior of the school is from a teacher who taught there in 1878 and 1879. See the piece above.
Sources: "More About Octagons," Carl Schmidt. Dale Travis. Vaughn Murray.
Entered: October, 2002
Updated: December, 2003
Updated: July, 2008
Updated: August, 2008